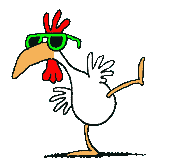 Wow, that was fast!! I woke up this morning and discovered that I now have 200 wonderful fans who have joined me on my Facebook Fan Page!
Yaaaayyy!!
So… now on to the suspense of seeing who won my Sparkle beads giveaway prize, right?! At first, I thought it would be really neat to write down all the names and pull the winner out of one of my fancy vintage hats—but the very thought of all that writing made my hand cramp up before I even started. LOL
So I decided to be a little more practical and copied all the fan names into an Excel spreadsheet and gave them each a number in the order they had signed up (and now I'm all set up for future drawings too! ;-D). With the aid of the fast and totally non-biased
Random Number Generator,
this number popped up:
56.
And lucky number 56 just happens to be none other than
Kelly Owens Pratlett
of
GemJunkie!
Congrats, Kelly! I'll be contacting you shortly to get your mailing address so I can get your beads out to you, k?
And much thanks sent out to everyone for all your support and sticking with me since I nervously took the plunge and created my Fan Page about six months ago. I'm just sorry I couldn't send something out to each and every one of you—but I promise there will be more fun giveaways like this in the future! *Ü*