What could be richer sounding than "Golden Glow" for a color? It brings to my mind images like rays of warm sunshine, golden metals like brass and antique gold, the rich colors of the desert, and gooey butterscotch caramels. Sounds like Heaven now that the weather here in Washington consists mostly of grey skies these days! To translate this color in glass beads, here are a few suggestions I think work well:
A new Effetre color called "Butterscotch Sparkle" that was recently introduced fits this hue perfectly! It is a creamy translucent glass, with just a hint of shimmer inside that reminds me of fresh honey. Unfortunately, it was a limited run and is now very hard to find. I was one of the lucky ones who was able to snag some of it right after it came out, and you bet I'm hoarding it like Midas! ;-D Here are some beads I made with it:
Another glass color I would suggest is called "
Ghee
" by Creation Is Messy (CiM). This glass looks more like a pale yellow in rod form, but when melted, it turns a deeper color that gets darker as you work it in the flame—much like how butter changes when melting it in a skillet. I like this color a lot, but it can be tricky to get consistent color from bead to bead because of the way it tends to darken in the flame.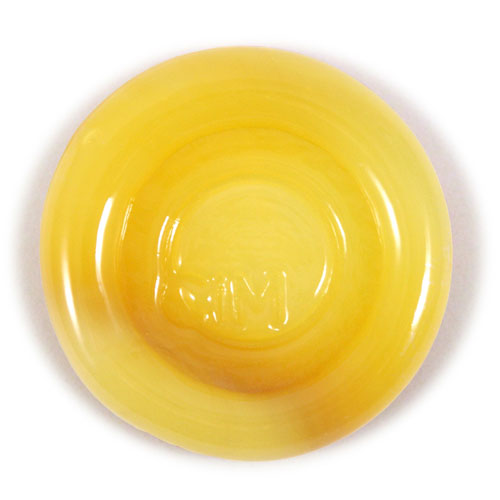 And finally, another fun way to add this golden color into your beads is through a frit blend, such as "
Safari
" from Glass Diversions. I love how this blend also has some of Pantone's "Chocolate Truffle" color mixed into it for instant pizzazz, as you can see in this set. I added a touch of sparkling goldstone ribbon before swirling the colors together and pressing them into oval lentil shaped beads.
Wouldn't this color also look stunning combined with some of the others in the Fall palette, such as Lipstick Red or Purple Orchid?
hhmmm…
I suddenly feel the urge to melt several of these jewel tones together to brighten my day! *Ü*