I'm still working through all the beautiful colors from the Pantone Fall 2010 Color Trends forecast, and I thought it was especially appropriate to highlight three of the colors that I thought are perfect for this time of year:
Only 20 more days until Christmas, but still plenty of time to make some beads, decorations, or other festive accessories for the holiday season, right?! ;-D Endive is a pale yellowish green with the tiniest hint of brown, while Woodbine is a medium dark sagey pine green with a hint of yellow. Both colors would look wonderful by themselves or paired together in floral or leafy designs. Lipstick Red is my favorite shade of red—rich and luscious and leaning more towards ruby, rather than a bright primary tone.
I looked through my glass stash and after a little experimentation, decided on these colors that I thought matched the Pantone recommendations the best:
From left to right:
•
Vetrofond Pale Pesto stringer work over Creation is Messy (CiM)
Olive
base
•
CiM Olive stringer work over Vetrofond Pale Pesto base
I'm pretty sure I used Pesto for the stringer work on the nugget bead on the left, but it sure looks different from when I used Pesto as the base color, doesn't it? hmmm… I'll have to double check that one to see if maybe I used CiM Dirty Martini instead?! For the two lentil beads, you can see how differently the Olive stringer looks on the two base colors—on the Pesto it stays nice and crisp, but on the Uranium Yellow it bleeds out quite a bit. This could be used for some great organic designs through!
A few weeks ago, I was inspired by the Fire Diva's Christmas theme Challenge and this is what I created for it—my own version of a Mistletoe Kissing Ball:
I used Olive as the base and loved how it turned out! So I made some more and decided to take it a step further, adding some complimentary accents to give this set a more festive pop of color:
The two larger red rounds with the polka dots were created with Effetre
Medium Red
and CiM
Peace
white. I like this red a lot, but as you can see, it tends to get dark streaks in it. An alternative glass that doesn't have this streaky quality is CiM's
Sangre
, which is a lovely red that I used it to create the two spacer beads on the ends. It is a transparent glass, but can get more opaque, depending on how long and hot you work it in the flame.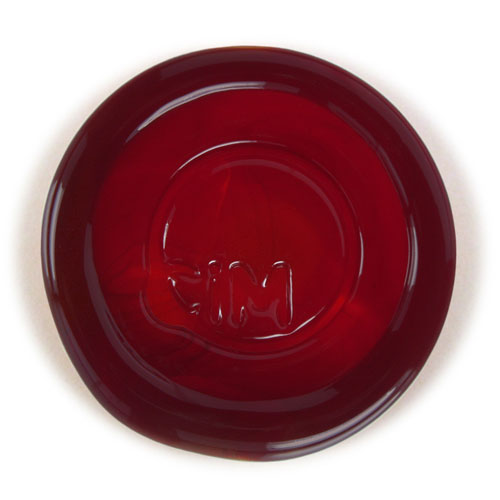 CiM's Bordello is another nice transparent red, but it is much more saturated than Sangre and needs to be layered over white if you want to bring out a lighter ruby color. If you have any other glass color that you'd like to recommend for this color palette, I'd love to hear about them! *Ü*