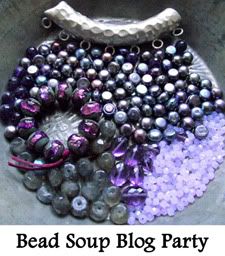 Yippeeeeeeeeeee!!!
I've been waiting for a year to get invited, ever since I first heard about the Bead Soup Party! This is a fantastic blogging event that happens only twice a year, created by Lori Anderson of
Pretty Things
. Everyone who signs up (including yours truly!) gets assigned a partner and we send each other
a focal, some coordinating spacers or beads, and special clasp. Then it's up to that person to create a beautiful jewelry design out of those elements and some of their own supply stash. When we're finished, all the participants share their designs on their blogs and visit all the other blogs in the event—for one HUGE blogging party filled with amazing eye candy!
I'll be sharing more, once I get my packet from my awesome partner, Jill MacKay. In the meantime, you can read all about this event on Lori's blog,
HERE
. Now I need to figure out what to send Jill and what to wear to the party—even if it is only in Cyberspace!! LOL