Oops!
Looks like I totally dropped the ball on continuing my feature of all the new Pantone Color Trends for this Spring. EEK! The good news is, these colors also carry into the Summer season—
whew!
So I'm going to try and finish up the list over the next week and I'm hoping all of you can help keep me accountable for it?! LOL
Pantone Solar Yellow
The next color I wanted to showcase is Solar Yellow, which Pantone describes as "…providing a jolt of energy…and radiates warmth and cheer." (That jolt is just what I needed to jump start this series again too! ;-D)
I love this color because I am not partial to primary colors, but love it when a bright color has a mix of something else in it to make it more interesting—in this case, just a hint of golden orange sunshine. This gives Solar Yellow a warmth and richness that I think makes it a great color to also carry over into the Autumn season. And that means our fashion dollars will stretch even that much farther this year—which is always a good thing, right?!
This little daisy button has a center of Solar Yellow, with slightly raised bumps to give it some fun interest. I used an odd lot of a glass called Pumpkin Orange by Creation is Messy (CiM) and think it's a perfect match. Wouldn't this look so fresh and sweet as an accessory on a summer headband or a cardigan sweater in the Fall?
White Daisy Lampwork Button
Here are some other similar glass colors to consider for making your lampwork beads…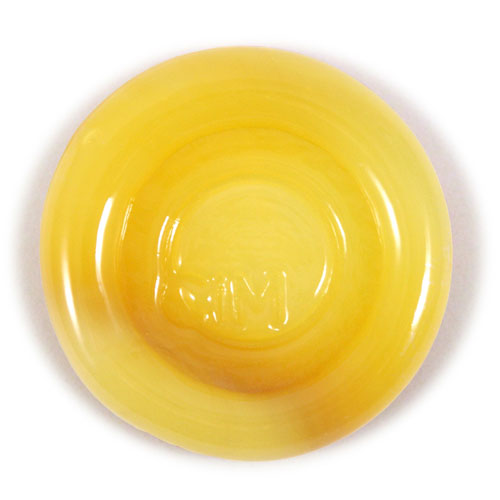 Ghee (CiM)
Mystic Yellow (Reichenbach 104)
Doodle Daisies with Translucent Lemon Yellow (Vetrofond)
Opal Yellow (Reichenbach 104)
Yellow Pastel (Effetre)
I can see Solar Yellow combined with a wide variety of other summery colors like ruby red, navy blue, or tangerine orange. And in the Fall, it would add a nice pop of color to more subdued earth tones and greens. Now that the sun is finally shining more often these days, I think it's all the inspiration I need to make some fun new bead designs featuring this sunny color too! *Ü*